Pat On The Back Department....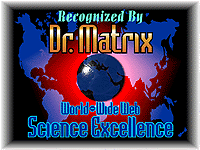 This site has recently been rated among the top 5% of all sites on the Internet by Point Survey. It was also picked as the "Geek Site of the Day" on July 12, 1995. It was also picked by the Canadian Mathematical Society as the cool site of the week in March, 1996. (They call their cool sites "Knot a Braid of Links." We were also classified as a 4-star site (the highest rating) by Magellen. Also, we were picked by Planet Science as their site of the day on April 19, 1996. More recently, we've been picked as an editor's choice at The Bonus Network (a supersite for kids) and have been given a 4-star rating by Luckman Interactive We were runner up in our local "Best of the Web" run by the Furman student newspaper, The Paladin. We were recognized by Dr. Matrix with an award for excellence. And finally we were recently picked as a cool site of the hour, and on the same day were picked as a hot site by USA Today newspaper. As a result of this, we were mentioned in the February 4, 1998 print version of USA Today. We were also picked by Starting Point as a featured site in November of 1998.

---
Back to the MQS Homepage.